I purchased a doubler kit from D. D. Machine a couple years ago. I did the mod myself, cut the case (bw 1350), welded the plates in, put it all together, It wasn't all that difficult except for maybe mating the two cases together with all those allen bolts. I put it between a c5 auto and my stock BW 1354E transfer case, using synthetic ATF to fill it.
So the thing works awesome - 6.15 gearing in low-low. it worked great with the c5 too. I didn't really get to test it off-road much because at that time I had only 31's and a 2" lift, but the plan was to do an SAS. The SAS took about 2 years to get done- there's a thread on here somewhere about it.
So I get about 300 miles on the thing and one day going down the highway, it starts popping out of gear, going from 2wd high to neutral. At first it felt like it was jumping teeth on the gears and then it wouldn't go into high range at all.
So I tow the truck home and take everything apart and find that the doubler case had gotten hot-hot enough to melt the little plastic shift guides on the range fork. I thought maybe the case got low on fluid because when I put it together, I had a small leak. The bearings seemed fine, so I reassembled it using an extra set of plastic shift guides off of the mode fork (2wd to 4wd). this time I made sure to fill it up higher than the fill hole that D. D. Machine put in.
Pic of range fork and how shift guides are supposed to look
[IMG]
[/IMG]
What happens is those little plastic shift guides melted and fell off.
Well, it lasted about 100 miles before it happened again, leaving me stranded on the highway again. This time I drove it home in low range for about 10 miles doing about 15mph tops. I took it apart again and this time it was definitely NOT low on fluid, same problem - melted shift guides. after the shift guides go, there's enough play in the range fork that it won't stay in high range. The problem was also that, by running it home in low range, I screwed up the range fork.
At this time I got frustrated with the whole thing and removed the doubler. It sat in the garage for a year and a half or so, but then I started on the SAS and decided I wanted the doubler so I tried to get it working again.
I started asking around to people with rbv doublers and no one else seemed to have this problem. I tried several times to get ahold of D. D. Machine with no luck. I almost gave up and tried to buy one of the stubler cases, but they weren't being made anymore.
The stubler case seemed to be very well engineered and nobody had any complaints about them so I started looking at the differences between the two doublers. On the stubler case, the intermediate shaft (stub shaft or whatever you call it) is drilled all the way through to allow oil from the pump in the rear transfer case to push oil up to the doubler case, then there is some drain holes in the front plate to allow the oil to drain back.
I started thinking maybe this would help my oiling problem and decided to try some "stubler mods" on my D. D. machine doubler.
Hole drilled through shaft
[IMG]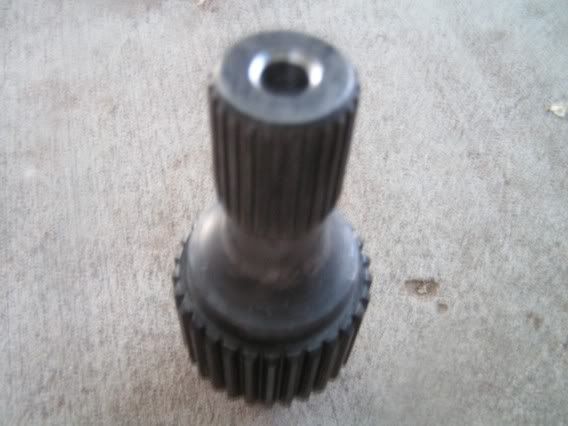 [/IMG]
Drain holes in front case cover
[IMG]
[/IMG]
Then I bought a new range fork and shift guides from drivetrain.com, replaced the bearings, I even used a sealed front bearing like the stubler uses. Then I put it all back together- for the third time. It was really a b*tch too 'cause no one was able to help me that day and so I wrestled the two cases in by myself (bolted together), and the truck was about 6" higher now due to the SAS.
Here's the assembled case
[IMG]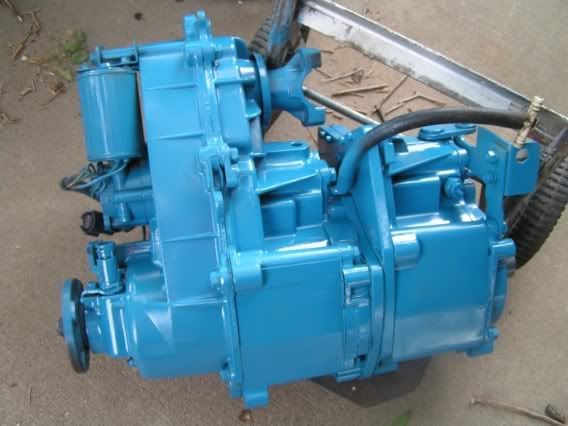 [/IMG]
So now I'm happy - got the SAS done, got the doubler back in and working, the truck is starting to look good.
[IMG]
[/IMG]
I drove it around for about 3 weeks, took a couple trips out of town, everything seemed to work.
But then it happened again - I started out of town and the thing starts popping out of gear again - dammit, stranded again.
every time this has happened, it's been on the highway, in high range, I haven't even had it in low range more than about 6 times and haven't even had it on a trail yet. I want to have a doubler, but I need a dependable drivetrain since I usually drive to the trails, which are at least 3 hour drive from where I live (southeast CO)
So I'm at a loss as to what to do now. I think I'm gonna just buy some extra driveshafts and do away with the doubler since It gives me so much probs, I may put it back together and keep it until I can get a rig to tow my truck to the trails later.
To my knowledge, I haven't seen anyone else with this problem so I don't know what to do to fix it, maybe start over with another case, and try again, but I don't think it's the case, I think it's just an oiling problem with the doubler setup - but why no one else has this prob I don't know.
So I'm hoping someone here can help me. I want to keep the doubler if I can figure this out.
P.S. this isn't a bash on D. D. Machine's product, I think the quality was good and they put out a good kit.