For Sale: K&N 6inch Cone Universal Area Filter
11-05-2010
Member

Join Date: Oct 2010
Location: Rochester, NY
Posts: 55
K&N 6inch Cone Universal Area Filter
---
K&N Universal Cone Air Filter - Fits a variety of intake tubes
~ I do not know if this will fit on the Ranger's intake. I just pulled it off my dodge neon and figured it couldn't hurt to list it here too~
Used it on my neon for the last 30k miles and now I'm selling the neon. Just freshly oiled today with K&N's Recharge kit, looking good and ready to go!
Comes in original K&N box and with instruction page!
$25 shipped to your door, I paid $50 two years ago on amazon. Paypal is preferred.
PM me with any interest or questions...
Part RF-1039 Product Specifications
Product Style: Round Tapered Universal Air Filter
Base Outside Diameter: 5 in (127 mm)
Flange Inside Diameter: 3 in (76 mm)
Flange Length: 1.75 in (44 mm)
Flange Type: Centered
Height: 6 in (152 mm)
Top Outside Diameter: 3.5 in (89 mm)
Top Style: Metal
Top Material/Finish: Chrome
Filter Material: Cotton Gauze
Filter Re-Oiling Amount: 0.89 oz (26 ml)
Weight: 1.3 lb (0.6 kg)
Product Box Length: 6.38 in (162 mm)
Product Box Width: 6.38 in (162 mm)
Product Box Height: 11 in (279 mm)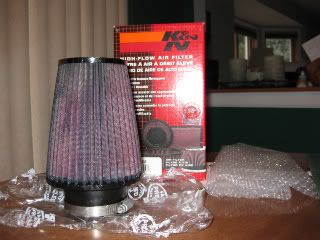 K&N RF-1039 $43.99 - Universal Air Filters, Universal Chrome Filter
Thread
Thread Starter
Forum
Replies
Last Post
General Ford Ranger Discussion