2004 Manual Shifter Extension Retrofit
By: Steve Die (Rob)
Because I'm over 6' tall and don't like sitting on top of the wheel and up against the pedals I sit almost as far back as the Regular cab Ranger seat will allow me to be. Because of this I had to lean forward to shift gears, especially into 5th. It made the drive somewhat uncomfortable. Since I can't leave anything alone and have to constantly change things I decided to make the shifter longer for comfort. The Mod is very easy, provided you have a welder or someone who doesn't mind welding a single grade 8 nut for you. I had someone weld it since I don't have one, it took four minutes. Before I get to that I want to show a picture of my first attempt at extending the shifter.
I used my grinder to cut the shaft from the portion that attaches to the transmission (No idea what it's called, enlighten me). I then had a grade 8 nut welded to the shaft and to the connecting portion so I could use a threaded rod in between. My thought process behind this was the stock boot or worst case scenario was an aftermarket boot would cover up the mod. No muss no fuss! However, once we had it welded we notice it lost its slight angle towards the driver. In neutral it stuck straight out. Overall the extension gave me roughly three extra inches. At this point I noticed that the slight angle towards the driver was very important. Gears 1, 3, and 5 I had to reach up to engage, back to square one!
I used this for nearly three months and grew accustomed to the new feel. A tad better than stock but since I can't leave it alone (once again) I grabbed a new shifter from the Junk-Yard and decided to try again. The below picture shows my second attempt, that I absolutely love and was just as quick to do.
I first tried to pull the factory **** off so I could reuse it if I decided to, also to have that much less to extend. Well, because the **** is glued onto a spline it was a PITA and I couldn't get it off even while applying heat. Some individuals have no issue removing them while others can't at all. I was one of the unfortunate ones (as usual) so I broke out my grinder and cut it off at that small base below the ****. I then had a 5/8 Grade 8 bolt welded to that small lip. It was a near perfect fit diameter wise. I had some 5/8 threaded rod I used to mix Bondo with (You can see the pink on the end) and cut that to the length I desired along with a piece of 1/2 copper pipe to the same length.
After grinding the weld around the nut to smooth it out and make it more appealing I washed the shifter and copper pipe with soap, rinsed and repeated. Then I did the same using TSP to remove all the heavy grease and crud that won't come off with soap. I then used a C-Clamp to hold the shifter in an upright position to dry and for painting along with the copper pipe standing on a ratchet box. I gave both pieces three quick coats of self etching primer and once it dried I used some Dupli-Color Vinyl and Fabric black paint I had laying around from my interior conversion project (long story).
Thread the rod into the nut and slip the copper pipe over that. I used some construction adhesive to bond the copper pipe and threaded rod together. Is solid and won't move but I could pry it apart if I had to. Put your aftermarket (or stock ****) over that. My aftermarket **** had set screws to hold it into place, easily removable. Below I have a picture of the pieces joined together before I threw the **** onto it. It looks pretty slick for taking about thirty minutes to do before installing back into the truck to dry over night.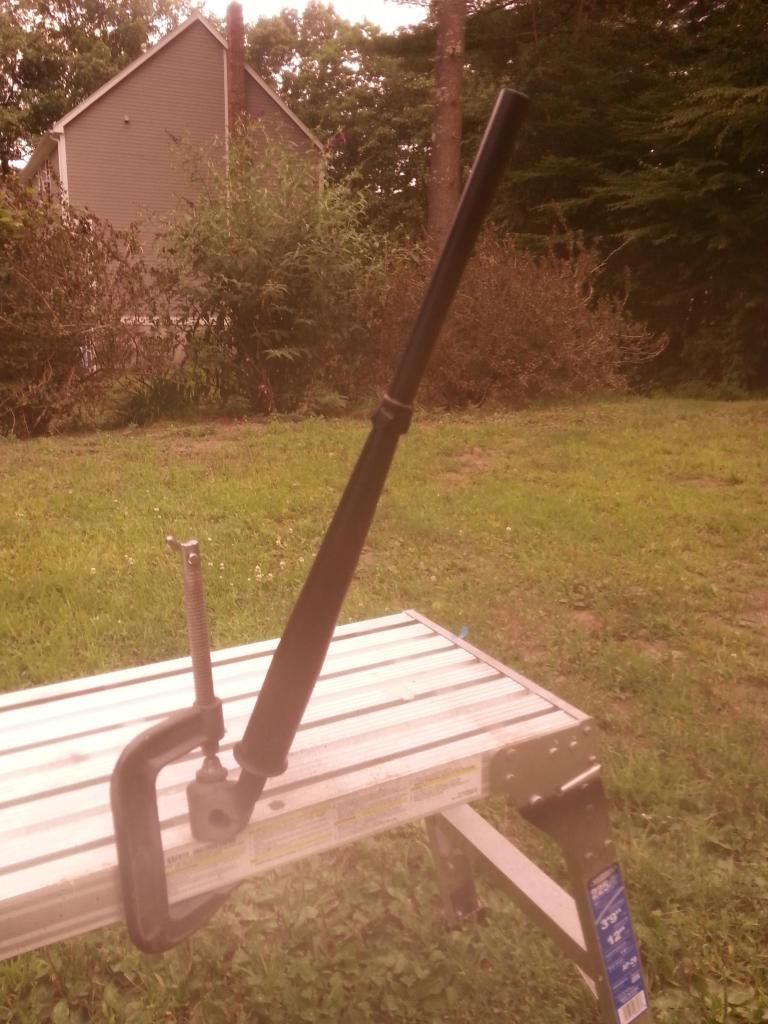 I am very happy with the results for less than a $10 modification along with not taking any time at all. I like the stock shifter boot and I'm able to continue to use that, bonus! Now I can reach the shifter while sitting all the way back in the seat without stretching. I know that the 98+ Rangers and B-Series trucks used the same type of shifter so this can be done on any of those models. Earlier models I'm not positive about, but the same methods should still apply.
Happy Modding!