Checking Interest: 32x11.5r15 Pro Comp M/T, DC-1 (STL-IL)
06-12-2012
32x11.5r15 Pro Comp M/T, DC-1 (STL-IL)
---
Just sold the ranger, getting an f-150 soon.. so no need for these anymore
If no buyer here, they will head over to C/L.
32x11.5r15 Pro Comp M/T
15x8 DC-1
$750 OBO.. not sure what these are going for right now.
These are some older pics, but if interested, I will take some current, more detailed pics.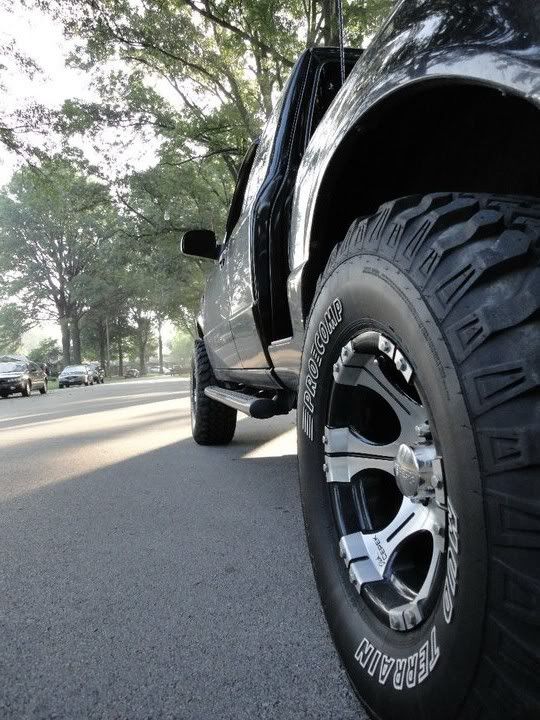 ---
Last edited by rangrdangr_4x4; 06-12-2012 at

07:30 PM

.
06-12-2012
06-12-2012
Join Date: Aug 2006
Location: New Mexico
Posts: 7,537
06-13-2012
I'm not interested, but how about some info on tread depth? Whoever has intent on buying would probably be interested in that...
06-28-2012
Alright guys, been busy, but I've got some update pictures that I took today. Still a lot of tread of them and reallllly clean. Let me know, shoot me an offer.
Caps aren't in the picture, but I DO have them. Can get a pic of them too if you need.
07-02-2012
Bump. Prices NOT firm. Want these out of the garage, I have no use for them anymore. Shoot me an offer.
07-11-2012
07-11-2012
I'de rather sell them together, even at a cheaper price if needed, just to get them out of the garage. Takin up useful space.
07-31-2012
if u still have these...how much shipped to 43942
Thread
Thread Starter
Forum
Replies
Last Post
Suspension, Tires, & Wheels
Suspension, Tires, & Wheels
Suspension, Tires, & Wheels