Tires - 2 Sizes - IL
02-13-2009
Tires - 2 Sizes - IL
---
Alright. On Monday I'm going to go pick up a BFGoodrich A/T for $20 (95% Tread) TY CL! So, I May Have 1 or 2 31x10.5x15 Pro Comp A/T's up for grabs, I paid $50 for them each. That's All I want Back. I have a nail in one of my current tires. So I might have to use one.
The others are on stock steel rims. Including my spare. Two tires are bald on the inside and the other two have some decent tread left. The Spare has never been used by me at least. I don't really know a starting price. I just need to get rid of them so lets say $150? I'll try to take pictures when I go north this weekend to my parents.
Tires are located in Ottawa, IL. Any questions PM me or just post on here. I always like a free bump
02-16-2009
Up First are the Pro Comp A/T's 31x10.5x15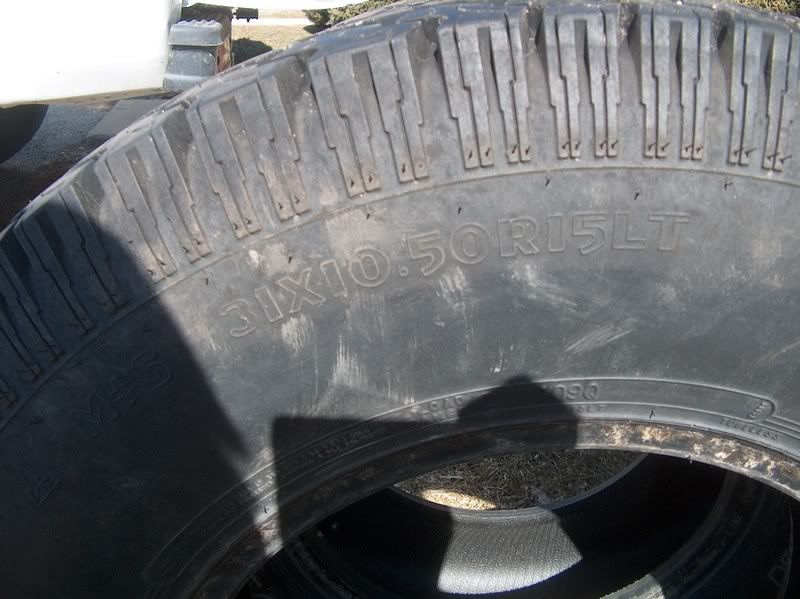 Ok, I thought it was $50 a piece but I was wrong it was $75 for both of them. Just looking to get my money back. I've never had them on my truck.
Next, My spare that hasn't seen daylight since I bought my truck. Its a Firestone Wilderness 235/75/R15.
As far as a price goes. Lets say $30? Just need to get rid of it once my new wheel comes in.
Last but not least. (I can't believe I said $125 for these) Are the 4 other tires on the steel rims. They are Kumho Touring 225/70/15R Tires. Two of them are bald on the inside do to a wicked camber issue. All I really want is some money for the rims, maybe $50-40. Tire are a bonus. They would work great if you wanted to swap rims with another truck that would just sit or decent winter tires. I also have all lugs for these four somewhere.
Baldness Pic (remember 2 of these need to be replaced)
Thread
Thread Starter
Forum
Replies
Last Post
Suspension, Tires, & Wheels