Just as with my recent interior mods, I finally made enough room in the garage to get a couple mods finished up.
Here's a quick video link to my 3rdBL.
All LED's, the center section is connected to the brake lights as normal... nothing to see there. BUT the outer sections are connected to the turn signals/hazard lights so when the hazards are on you get....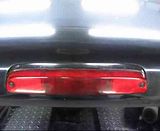 When the turn signals are activated (hopefully I'll get time to make another video clip) the left side blinks with the left turn signal & the right with the right.
The video doesn't do the light justice, it's BRIGHT!
I'm sure there was an easier way to tap the turn signal wiring from inside the cab, but I chose to run my wires all the way back to the tail lights & tap into the turn signals there.
Now I have led turn signals in the tails, led strips on my roll pan & led turn indicators in the 3rdBL.
Up next... ? more led's ?