Ive been lookin into buyin a ranger. I know that it is cheaper to buy one thats already modded (You just loose the satisfaction of saying you did it on ur own)
Anyway too the point...
Ive found a 2000 Ranger XLT Standard Cab 4x4
I talked the guy down to $5500 from $6500 is it a good deal?
Its got the following Specs/Mod
The Infamous 3.0L Vulcan
5 speed Manual (recently replaced clutch)
Superlift 4 inch suspension lift
3 Inch Body lift
K&N Cold Air Intake
35's BFG M/T
JBA Headers
Aftermarket Exhaust(I think its got a Borla Muffler)
102,000 miles
4.56 gears front&Rear (Open Dif)
(Truck doesnt seem abused Clean Body)
Speed Calibrator
*Its Needs"
Front Sway Bar Links "Horrible body roll in front"( something w/superlift gave him the wrong ones?)
Rear Traction Bars "it has a bit of Axel Wrap" (From what ive heard James Duff is the way 2 go?)
So could someone give me there Input I dont wanna waste a bunch of money if its not work it
Thanks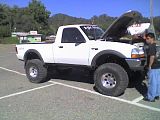 Thanks