I picked up a used hurst and it had a few missing peices. Now that I've tracked them all down, I thought I'd do a write up for the guys with older trucks like mine, or those who don't have all the parts.
First pull off the factory console and shift boot (4 #2 phillips screws)
Then remove the nut (17mm) from the stock shift arm, and tighten it onto the other side to remove the cam bolt.
pull up the inner shift boot and remove the 3 torx screws (T30) on the stock shifter base.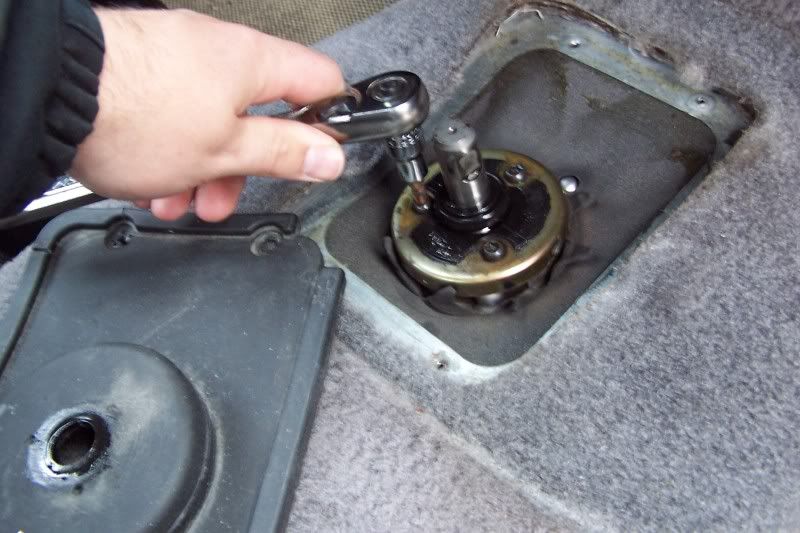 Install the new adapter plate with 3 6mmx1.00 countersunk screws. I bought 16mm long stainless ones. (4mm allen head)
Torque them to a highly precise value of "tight enough"
Normally, this is where you would drop in the new shifter base, notch forward
But I had an issue. I needed the 1/4" spacer plate.
Tracked that down, and the longer bolts (I actually had the right ones) are a 1/4-28 X 2"
now get destructive and cut a hole in the inner shift boot large enough to stretch it over the hurst base.
Install the arm and adjust shift stops if necessary. Mine was used, they were already set perfect.
Change your stock shift boot to the hurst one, it takes 4 folds over the console. I bought a cheap imitation at the local discount auto parts store for $19, way better than $35 for a new hurst superboot.
I had the hurst top plate, so I put that in too, and man was that a pain to change. All the little pins broke off that hold the stock boot, so I glued the new one to the bottom of the console
Screw the console/boot back down over the arm and install your ball/****/handle and you're ready to roll.