For Sale: Misc parts in Ontario
07-11-2010
Join Date: Mar 2009
Location: Clinton, Ontario
Posts: 8,181
Misc parts in Ontario
---
When I sold my Mustang a while back I cleaned up the garage and found quite a few things I no longer need! I had these up on the local Mustang forums for a month now so I've gotten rid of most of the Mustang stuff. Most of this stuff is more universal, not just Mustang stuff as there are quite a few V8 Rangers on the site! I'll just throw the few Mustang things on at the end in case there is any interest.
1. Ford Racing/Motorsport 9mm ignition wire sets. One red, one black. #4 wire has burnt boot on both sets, black set has gray coil wire. Great for spares - $20 per set or $30 for both sets.
2. Stock CD player & tape deck. I never used either one I took them out as soon as I bought the car. I assume they work but I don't know for sure so... - $15 each or both for $25.
3. 8.8" differential cover. No rust, off summer vehicle. There are a few small dings on the bottom from a floor jack. Bolts and new gasket included, ready to install - $25.
4. Chrome 3.5" intake elbow w/ 4 bolt flange. Not quite a 90* bend - $10.
5. MAF sensor and housing, Part # F1ZF-12B579-AA - $45.
6. Set of Ford/Denso 19lb injectors with newer o-rings. Part # F1ZE-C2A - $45 for the set.
7. Set of original pedals/covers - $8.
8. Stock ignition coil. Worked fine, removed to install MSD Blaster coil. Fits many Ford/Lincoln/Mercury vehicles - $20.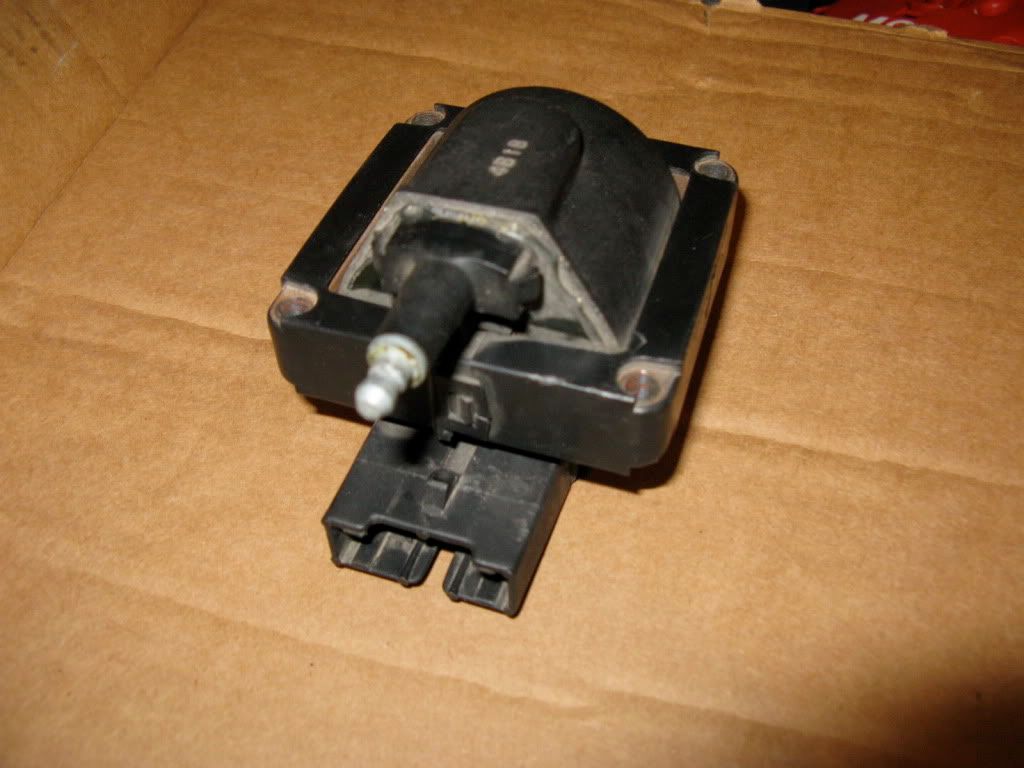 9. Aftermarket radio harness set. Ford/Lincoln/Mercury models w/ factory amp - $8
10. Aftermarket radio harness set. Ford/Lincoln/Mercury models 86 & up - $8
11. Aluminum thermostat housing for 302 - $10.
12. Assorted breathers, all fit 1" hole. Ford Racing chrome and small K&N breather - $5 each. Larger chrome shielded breather has an offset adapter if needed to clear EGR valves, etc. - $10.
13. MSD plug wire hold down - one dolla!
14. Ranger ash tray, I don't smoke so it's useless to me! - $10.
15. Chrome cover/rubber grommet for where CAI goes into fenderwell. I think it's for 3.5" or smaller tube but I'd have to check - $10.
16. Brand new American Racing AR-23 15x7" aluminum wheel w/ cap. 5 on 4.5 bolt pattern - $40.
17. Brand new American Racing AR-172 15x8" aluminum wheel w/ cap. 5 on 5 bolt pattern - $40.
18. 94-95 Mustang horizontal style tail lights. I think the paint on them is E9 Laser Red but they have a few chips so either needs some touch up or repainted - $50 for the pair.
19. SN95 Misc black trim pieces. Driver side A-pillar, gauge cluster surround and the piece below that. Cluster surround has a small hole drilled as seen in pic for LED alarm light - $8 each.
20. 94-95 GT cluster for parts. Pretty sure everything is working except for the speedometer - $10.
Parts are in Blyth, Ontario but will ship! Most parts are o.b.o. but be reasonable!
Thread
Thread Starter
Forum
Replies
Last Post
Interior, Exterior, Electrical, & Misc.
Interior, Exterior, Electrical, & Misc.
Suspension, Tires, & Wheels