Trade tonneau cover for Edge bed rails
06-13-2010
Trade tonneau cover for Edge bed rails
---
So I have a snap on tonneau cover for my trcuk. It's not beautiful but it works great. Two of the ribs have broken snaps so they don't lock in place but it doesn't affect anything and one of the snaps is broken but the cover is is water tight, looks decent for it's age, has no cracks, and no serious wear.
I don't need, want, or feel like snapping the cover anymore. I REALLY want the plastic bed rails the 2001+ Edge and 01-02 4x4 Off Road come with. I love them. Alot.
It you don't want the cover or want some cash on top I would be willing to negotiate.
The bed rails and the cover set up are really light so shipping is an option.
If you NEED pictures I will put some up when I get the cover on again but it might be awhile because the weather sucks.
Here's a pic of rails: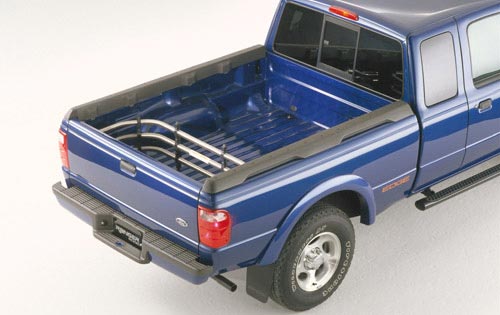 06-14-2010
I have those bed rails and all parts. PM me what you are willing to pay total and I will see what shipping is.
06-15-2010
Shipping doesn't look to bad, let me try find a box for it and I will see what I can put together. I may have some photos at home as well.
06-15-2010
Finding a box for the rails will be pretty impossible. You'll have to make one I figure. If you give up then I have a set of grey ones that I'd like to get rid of, but only if Harry decides it's too much of a hassle for him.


GB :)
06-15-2010
I use to work in a box factory and i watched a lot of Macgyver as a kid.
06-16-2010
07-14-2010
Bump! I want me some bed rails!

I am currently offering my cover with FREE shipping and I will cover the shipping on the bed rails to me.

Or I will give $50 for a set w/hardware and I will pay shipping.

PLEASE RESPOND IF YOU HAVE THEM
07-14-2010
I've still got that set off my truck - 6ft bed. $50 plus shipping fees. I'll wrap them in bubble wrap and clear tape and send them through UPS or Fedex.

They're not in mint condition but they're pretty nice. One little 1" gouge in them that's hardly noticable, but 2 or 3 of the little oval caps (that are basically access covers for the allen screws) are missing.


GB :)
Thread
Thread Starter
Forum
Replies
Last Post
Interior, Exterior, Electrical, & Misc.
Interior, Exterior, Electrical, & Misc.
Interior, Exterior, Electrical, & Misc.