Figured I'd make a build thread here. Lots of cool projects in this section, thought I'd add to it! Since I've already done pretty much everything to it, this will be pretty much a rundown of the trucks history including all work done to it...
back in 2004, I bought a new fully loaded 2003 Ranger XLT for $16,500 with just under 20,000 on the odometer. I decided I wanted a truck to support my hobbies, sold my Honda, and found the perfect Ranger less than a week later. It was a 4wd level II with real nice black and red interior. I took great care of it and it was my daily driver for many years. At first, I thought I might want a lift kit, but didn't want to spend the money on that. Then I joined the Marine Corps in 2008 and then it sat a lot (covered or garaged), and I got an 06 F-150 Lariat for a daily driver.
Stock Ranger back in 05
After a little while of being stationed in socal, I decided I wanted to do something with the Ranger and started looking around for parts and shops. Shortly after, I was dumping quite a few thousand (made some decent money in the military, along with the wife working down there) into it and got a 4WD Dixon bros racing kit. That was THE kit to get not that long ago, and pretty much the only thing offered for 4WD at the time.
Dixon kit just installed and Dixon bumper as well
Trip out to the desert with Richer racing a couple days after they installed the Dixon kit. Stock rear end still lol.
After a year or so, I decided I was going to keep dumping money into it. I got with Richer racing, a local shop, and one of the best around, to have him build me a full cab cage to where I could continue the rest of the truck off of. It was there for a few months and I got it back a week or two before I deployed.
Right before ripping out the interior. It was so nice looking!!!
Into the shop for the cage. Kept the factory dash and door panels.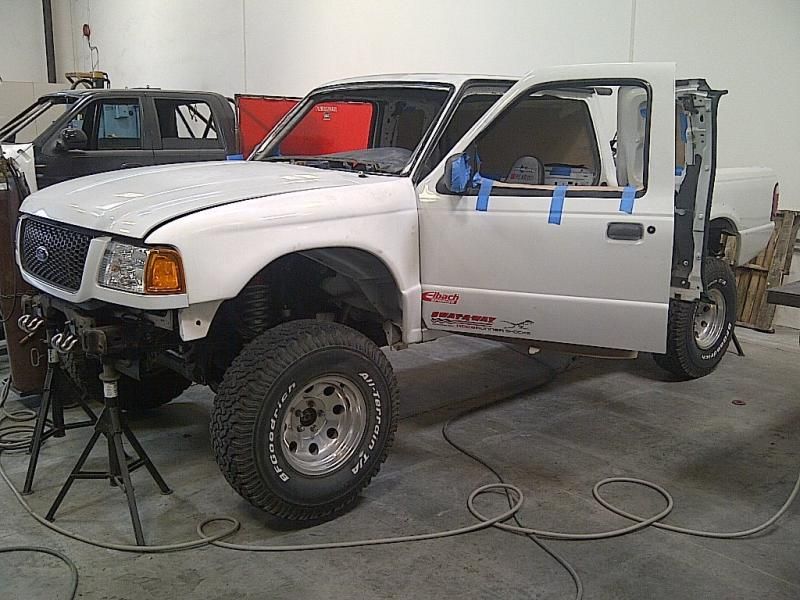 Just back from Richer, cage finished
While deployed and when I got to use the internet, of course I was thinking of what I wanted to spend my tax free combat pay on... I got ahold of BTF fabrication and setup the shop space with him for my truck for when I got back. Within a couple weeks of returning from shithole Afghanistan, I stripped it down and had it on it's way to BTF for a full backhalf and 4-link kit. After some months later, I was ending my time in the Marine Corps and heading back home to Oregon. It wasn't quite done, so I moved back up here and would be shipping it home when it was finished.
BTF beginning the back half!
Almost done...
Getting shipped home
Back home, ready to go play. Stopped by America's tire a few days later and got all new tread + spares.
Went to Dunefest a couple months later and had a pretty good time overall. REALLY busy though...
This was just back in 2012, and after getting the truck back, I did a lot more mods, minor fab work to it here and there, and decided to change the direction I was going with it. I really only go to the dunes with it and will eventually spend more time in central Oregon in the desert, so the first thing to go is the 4wd. I planned on eventually doing a swap, and for what I do, the 4wd is not completely necessary and will be a lot more money and time to do anything with. I ditched all of the 4wd components.
I did a lot of little projects to the truck, and added a lot of things like lights, built a custom console, fabbed up a lot of mounts and brackets, relocated the battery, removed ABS and added proportioning valve, etc...
Then it was time to upgrade the engine... I had just gotten back from Dunefest, and I was not happy with the 4.0's performance out there. I wasn't ready for a full V8 swap, so I bought a used Eaton M90 supercharger and an RP Caster supercharger kit. I installed that and drove the truck around once in a while.
Spent many painful hours like this...
I was, and am currently in school, so the truck really only comes out on nice weekends for now. After only a year or so with the supercharger kit, it was time for me to pursue a more long term and practical goal; a V8 swap. It was fun, but dumping money into the SOHC 4.0 is not worth it in the long run.
I had already researched the crap out of swaps, so I was on my way to looking for a donor Explorer. I picked up a 2WD 96 5.0 with 103k on it for $1200. Very mild front end damage, and I even drove it to make sure it was fine. So began the project...
My brother came up for a day and we pulled both the 4.0 and 5.0 with trannys still attached in around 8 hours. Not a fun day, but I wanted it on the stand so I could start tearing it down. This was in early January of this year. I completely tore down the 5.0, minus the pistons, and rebuilt it with all fresh parts from Rockauto. Had the heads acid washed and machined and threw in a Trick Flow spring kit. I installed an E303 cam for some better HP a bit higher, polished the lower intake up pretty good, and called it good for now with mods until I get headers made for starters.
Engine all done, photo from last week. You can find a lot more in depth photos of the full swap in my 8 cylinder tech thread here:
https://www.ranger-forums.com/8-cyli...stions-144560/
I spent a lot of time cleaning, painting, and prepping the engine both out of and in the bay, and the swap turned out great. Just finished it last week, and next week it is going to get dyno tuned to get it running smooth and efficiently.
How the truck pretty much looks now (photo with bedsides off):
Video of the awesome sound of the E303 cam and Flowmaster super 10's dumped at the back of the cab right after the initial startup session.
http://vid97.photobucket.com/albums/...pse7sopem9.mp4
I could have added a lot more small things, but that's the overall rundown! I definitely have plans to keep going, and I have some more projects to do on it. Thanks for looking.