I've seen many a Ranger with different year bumpers. Largely from 93 to 11, they use the same basic bolt pattern, which means they're all interchangable; although I'm sure there's an exception somewhere as usual. I thought about putting an 01 to 03 bumper on my 99.
01-03 Ranger with an 01 Expo bumper:
This is a 98-00 with the 01-03 front end conversion, still retaining it's 98-00 bumper.
98-00 with an 01-03 bumper.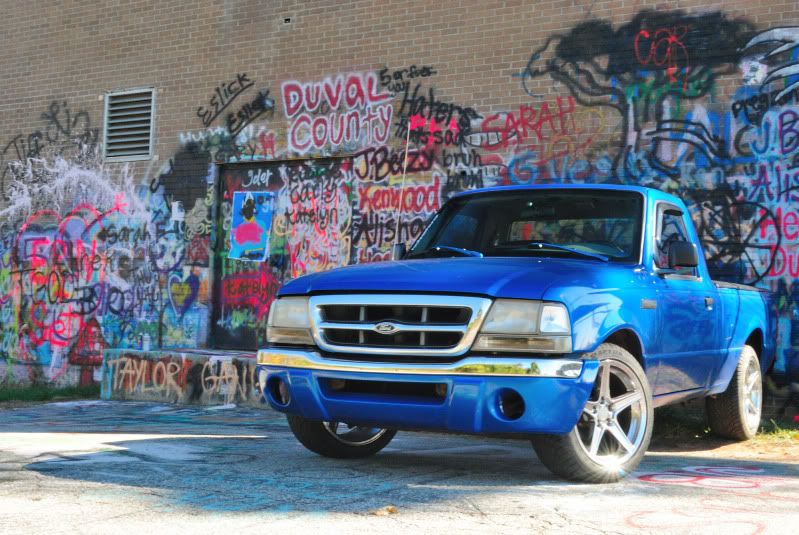 I had actually purchased an explorer front bumper (95 to 00) and attempted to fit it to my Ranger. This is the horrific result of that experiment. Note that the bumper is as far up as the brackets will allow.
To get an explorer bumper to fit right with the Ranger's header panel and light assembly, the brackets must be modified to allow the bumper to move farther up.
However, if you want something unique that not many people do is an explorer front end swap. Basically take the fenders, hood, header panel, headlights, grille, and bumper then put them on your ranger.
This is basically what it turns out to be, aside from the lowering. Do note that the area where the fenders meet the cab do have different body lines, so you'll need to address that somehow.
Check this link out. It's how a guy did the 2nd gen expo swap on his ranger.
http://www.rangerpowersports.com/for...03-ranger.html