It first started with a huge lose in power (can't rev over 3,500 rpm or get over ~55 mph) and a pig on gas!
P0125 showed up so after looking for a while I figured I would change the sending unit - single wire (3F1Z-12A648-A), coolant temp sensor (ECT I believe) to PCM -two wires (F7DZ-10884-AA) and then the thermostat. - Throughout this time the heater worked perfectly fine. The temperature gauge would get up to C but never very far from it. I would never get to the middle.
In doing so I drained the coolant took off the intake hose (cleaned the butterfly valve in the process) then got clean access to the sensors and the two 10mm screws for the thermostat. I got it all off and apart just fine minus the one stubborn plug on the sending unit (single wire). Putting the sensors back in took more effort then taking them out it could have been the anti-seize or thread sealant that came on it. Anyways, I also noticed that BOTH the new sensors I picked up from the dealership looked identical. Both of them looked similar to this: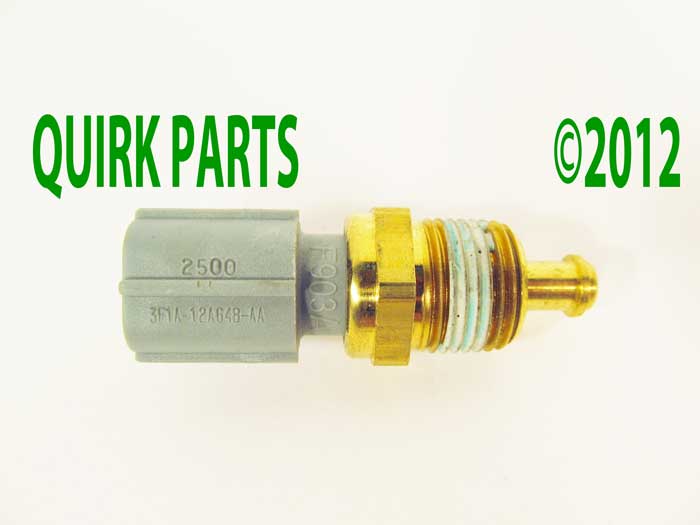 Granted the tops were different colors but the ends (metal) were the same or at least I couldn't tell the difference. The ones I took out of the block were definitely different. The sender (single wire) looked like the one above but the sensor looked like this with the pointed tip (I can upload pictures too):
I put the coolant temp sensor in first (two wires) and the plug went on fine.
Put the sender (single wire) in and I couldn't get the cap on... it was too tight. I looked at the old one and it seemed like one of the ribs to guide the plug on was off by the thickness of the rib... I tried again and thought maybe it was me and eventually cracked the cap.
Now the coolant gauge doesn't work at all doesn't even move. I then got it scanned and saw P0117 come up... Is this for the sender (1 wire) or the sensor (2 wires)
My questions are...
Did I mix the sensors up? I really don't think so I double checked before I put them in that only one was open at a time.
Was I given the wrong sensor for the coolant temp as it looked different at the tip? I have no clue? Looking at threads for P0117 it seems to be the sensor. I will be going back to Ford tomorrow am to take the old ones in to check.
Why wouldn't the plug fit on the sender (single wire)?... I have no clue.
If anyone has suggestions or could help that would be great!