Electric Fan
10-30-2016
Member

Join Date: Aug 2016
Location: Guyton, ga
Posts: 18
Electric Fan
---
So On a road trip the other day my fan clutch decided to lock up. consequently Making it sound like I'm driving a hoover down the road along with murdering my mileage and stealing an incredible amount of power from my 3.0. I've Removed her temporarily since most my riding is highway....can't believe how much power it was stealing....anyways I was contemplating going back electric since the truck seems stronger with no engine driven fan. any Ideas on the cfm I should be looking for in an electric?
10-30-2016
No on the CFM.
But most use a Taurus e-fan setup which works fine.
You can use a temp sensor that inserts into the rad fins to start and stop the e-fan, these are sold as kits, sensor and relay.
Or you can cut upper rad hose and insert a bung adapter and use a temp sender to active fan relay.
Example of that here:
Volvo Electric Cooling Fan
Yes, e-fan is a very good upgrade, one of the only upgrades that gives you more power AND increased MPG
Usually if you increase power MPG has to go down, lol.
10-30-2016
Member

Join Date: Aug 2016
Location: Guyton, ga
Posts: 18
Where Do I find a sensor kit? or could I steal one from a Taurus? Was Thinking maybe just toggle it....
11-01-2016
Mine is activated at 200, off at 195. These vulcans like to run nice and warm, and she seems very happy at this range. You ideally want a sensor controlling the fan through a relay. With just a toggle, you could absent mindedly cook your engine.
I bought a sensor kit off ebay, although I wouldn't recommend the kit in it of itself. You'll need a sensor of some kind, two relays, some heavy gauge wire matching the gauge of your fan, as well as some screws and nuts. I used a 92-95 Ford Taurus two speed fan, btw. Here's some photos of my setup. Wasn't hard at all.
The sensor I ordered came with a bushing, made to turn a 1/2 inch hole into a 3/8ths hole that the sensor can screw into. I used that and a copper coupling to construct my own adapter for the sensor to be in the flow of coolant. You'll find premade version of this on the internet, but they're all for non-existant 1/8th inch sensors. A hole was drilled, and the bushng threaded in tight with a ratchet, then soldered with a propane torch and plumbing solder, with flux of course. The upper radiator hose is then cut in half, and this adapter is fitted inside the hose, using a pair of hose clamps to keep it all together. You'll notice that the fitting I used was a bit too big, and therefor the hose is slightly stretched. This is a 1-1/2 inch coupling, and what should be used is a 1-1/4 coupling instead. The interior of the hose is 40mms, btw, or 1-37/64ths. Measure yours to be sure.
The fan itself was mounted inside the original clutch fan shroud using 1/4-20 carriage bolts with accompanying fender washers, nuts, and four acorn style dome nuts on the outside to finish it off. You can see that I've used a combination of nuts and fender washers in the fan itself to act as studs, then another set of nuts and washers which can be tightened or loosened to raise or lower the fan until the correct fit is achieved.
The dome nuts are there for a cleaner look and to round off a sharp bolt, and are optional.
I have not completed the wiring, namely the high side for the AC as winter is coming up. What I have right now is a single relay who's pin 86 is connected to a key-hot power source. Pin 85 leads to the coupling which is grounded to the alternator by that small black wire you see coming off the fitting. This allows the fan to only come on when the key is on AND when the engine is hot. Pin 30 connects to the positive battery post with a 60 amp maxi fuse in line, and pin 87 connects to the low side of the fan. 87A is left unconnected.
Tip: Use 8 gauge wire for the fan. The high side is wired at 9 gauge (for some reason) and the low side is 10 gauge. 8 gauge will support the fan and a little bit more. Also, get as much as the donor vehicle's harness as you can. The less wire you have to buy also means less splicing is involved.
This is the end schematic I will use this spring when it comes time for AC.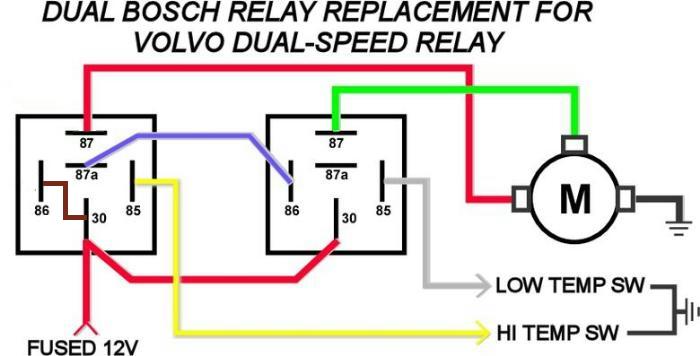 11-01-2016
No, you need to add a temp sender on the upper rad hose.

One thing you can do is to use the Drain hole on the rad, remove plug and install sender there, Toyota does that, the e-fan temp sender IS the drain plug.

If lower rad is plastic you need to add a ground wire to sender.
And remember the coolant temp will be 15-20deg cooler at the bottom of the rad, so adjust ON/OFF temp accordingly.
i.e. if you want fan to come on at 190-195degF then set temp for 180degF
Thread
Thread Starter
Forum
Replies
Last Post
DOHC - 2.3L Duratec / Mazda L Engines
General Technical & Electrical